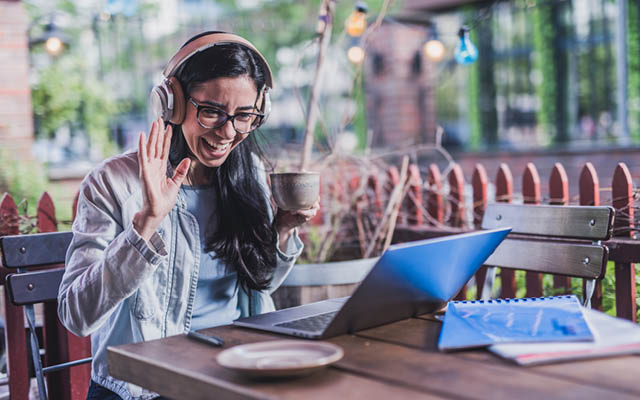 Like many of us here in Geezerville, My Lovely Wife and that i are pretty set in our ways. Life through the years has evolved into a fairly efficient routine that allows us to navigate the adapt of each day without expending much energy on deciding what needs to be done next. That, cheap we are not particularly sociable, has rendered the effects of the current pandemic perhaps less fraught compared to younger, more adventurous types.
I was reminded of the just last evening when MLW was settling into her desk chair with a book as she does most every night about the time I'm starting to nod off while reading around the couch across the room. "I may be some kind of sicko," she confessed, "however this whole isolation thing is working for me."
She was only slightly exaggerating. It's true that neither of us is mourning the vacancies on our social calendar, but COVID-19 has forced us to juggle facets of our old routine and embrace brand new ones. In some ways we've become more sociable than we might care to admit.
The day after the pandemic confined us to quarters — a lot more than three weeks ago now — the girl across the street who often provides a sort of neighborhood social director sent an email missive to folks on her block-club list inquiring as to their general health and welfare. The response was surprisingly robust, informative, and even celebratory:
"These are the times we rely on each other and hold one another up . . . OK, don't literally hold me, but get in touch with each other if you need anything," the social director quipped. Some neighbors responded with purports to pick up groceries and other necessities for housebound seniors. Others noted how glad these were to simply connect with folks at a time brimming with uncertainty. And a furloughed elementary school teacher mentioned her plans to deliver food to children at school bus stops. "It seamless comfort to be useful," she wrote.
These are people who typically nod and wave at one another while shoveling their sidewalks in December or mowing their lawns in July. There's a smattering of small talk at our annual Neighborhood Evening out, and conversations with next-door neighbors may drill a little deeper, but folks around here have a tendency to keep to themselves.
So, I was slightly flabbergasted when MLW invited everyone on the neighborhood email list to an afternoon sidewalk happy hour — social-distancing observed, of course. She envisioned a sort of 15-minute greet-and-retreat scenario, but when I noticed our social director plop down a lawn chair on the street, I had a notion that MLW's modest urge for conviviality might be more contagious than she'd imagined.
When she and I headed back inside an hour or so later, there were still a couple dozen people chatting amiably at a reasonable distance from one another. I'd learned our next-door neighbor was waiting to undergo hip-replacement surgery, the school teacher in the block would soon be looking for a new housemate, the contractor who planned to raze the vacant house across the street was still waiting for permits from the city, and the couple renovating their home four doors away just adopted a puppy. Nobody appeared to be complaining about working from home.
Two days later, my old buddy The King of Nordeast contacted me via Zoom. We caught up on recent events (his daughter home from college, new boss at the office) and scheduled a Friday Zoom happy hour. The next afternoon, while biking home in the post office with MLW, we ran into Big Mike, who we hadn't observed in ages. We vowed to get together as soon as the plague lifts. (TKN told me during our happy hour that Big Mike had immediately texted him wondering why he'd not been invited to the Zoom chat.)
There seems to be something in mid-air these days — and it's not just the virus. As David Brooks notes in the New York Times, the pandemic has dramatically altered our sense of self and is gradually transforming our atomized society into something resembling community. "Already there's a shift of values coming to the world," he writes. "We're forced to be intentional about keeping up our human connections. Relationships get forged tighter by the pressure of mutual dread. Everybody hungers for tighter bonds and deeper care."
Quite out of character, I've found myself in recent days checking in via email and text with virtually anyone who pops into my sequestered brain. In virtually every instance, any shock my social overtures might have produced were overcome by expressions of gratitude and a surprising willingness to disclose the numerous ways their lives had changed under the new normal.
But I put off connecting with my old pal Leo until last week. The frail poet and political commentator, 77, lives alone and has generally relied on the kindness of others for his subsistence. Part of me worried that he'd maintain dire straits, and, to be perfectly honest, I feared I'd be asked to perform some small act of heroism on his behalf. My email went unanswered, however my phone rang.
"Hi Leo."
"Boss!" he cried, an air of concern in his gravelly voice. "How's it going doing?"
Before I could get a report on his circumstances, he desired to know if I was still employed, how MLW was faring, and the kids, and the grandson. He provided to loan me some DVDs.
He was doing fine, I ultimately learned. A friend was delivering groceries when needed, and his neighbor across the street, who had closed his restaurant, was dropping off meals on a regular basis. "He even brought me cortado from the coffee shop," Leo noted. "Enough for several days."
And he was writing poetry, he added. "Poems always take us with the hard times."
"Yes," I replied, just a little sheepishly. "That and friends."