It is rare to find someone who does not like polka dots. If you want to revive this '70s fashion staple, you need a few polka dot dress outfit ideas. This is because not wearing the right polka dot outfit or not styling it well can backfire. The key is to go retro but in 21st century style.
From flowing one-pieces and ruffled tops to formal gowns and skirts, you can wear them all – but keep in mind to not just blindly follow trends. Here's your chance to wear polka dot outfits and look cute. Scroll down!
In This Article
11 Ways To Wear Polka Dots
The best way to sport polka looks is to break away from the stereotype and look at them differently. You can pair them with plaids, florals, and prints, and play around with colors. Red, blue, white, pink, black…there's so much you can do. Scroll through our lookbook and get started!
1. Black And White Off-Shoulder Gown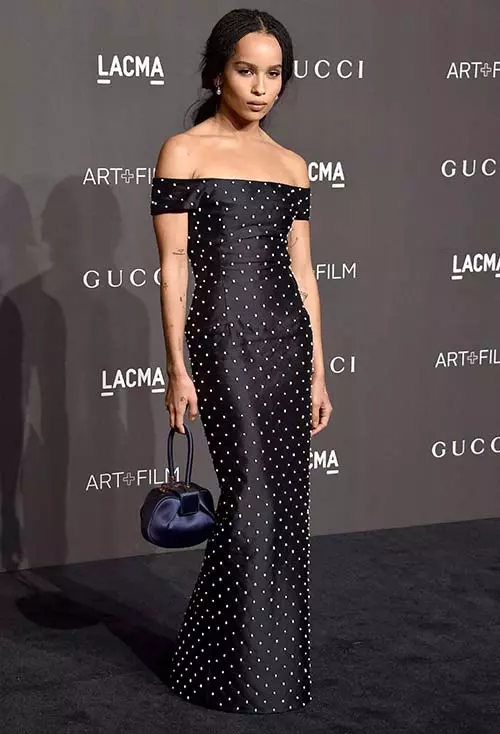 Toss away all your notions about polka dots not being classy enough and just take a look at this glorious gown. Gowns like these have taken over the runways. How about an off-shoulder gown that hugs you in all the right places? It brings out the best of the pattern and your figure! Who can say 'no' to this?
2. Coral Polka Dot Gown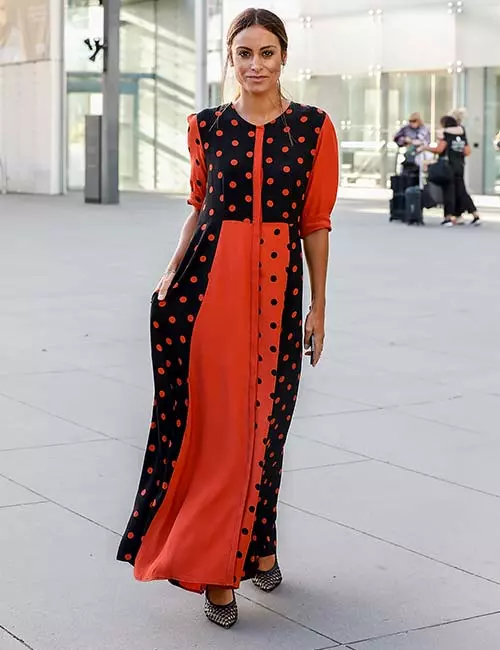 Flaming coral mixed with polka dots is how you turn up the heat on the otherwise subdued polka pattern. If this doesn't prove to you that polka dots are more than just a retro pattern, we don't know what else will. Put your hair up in a ponytail, go with nude makeup, dab on some brown lipstick, and finish off with ankle-length booties.
3. White Polka Dress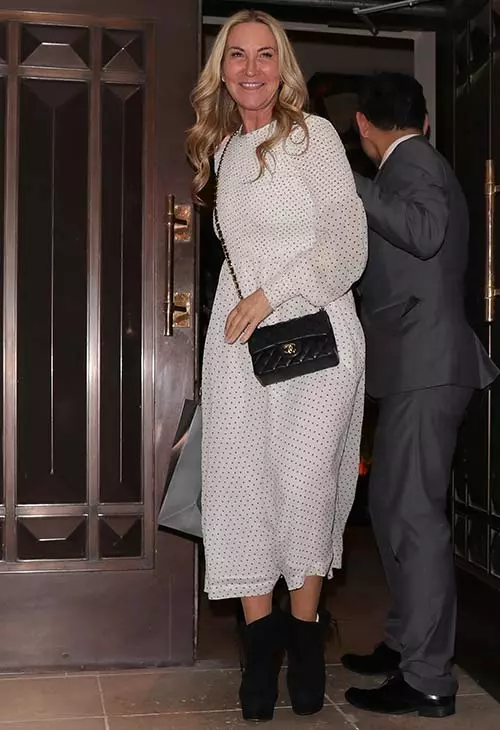 Playful, cute, and elite. But if you want to break the feminine silhouette of this outfit with ankle booties, know that it's approved by experts everywhere. The high neckline and long sleeves add to the charm of this outfit, so you need nothing but a side body bag to complete the look.
4. Blue And White Polka Slit Dress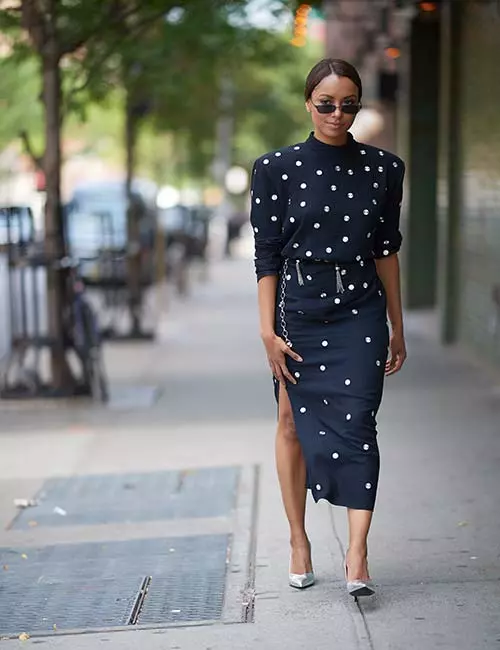 Borrow some of that Parisian panache and strut around like a diva in this ultra-chic slit dress. A slick bun, silver pumps, a belt, and angular shades add up to a hundred to make this look work. If you want to spruce this outfit up further, you can go for ankle or knee-high boots.
5. Black And White Polka Dot Skirt
There's nothing more flattering than a polka dot skater skirt paired with a tank top and a shrug. Kitten heels, simple studs, beachy waves, and a laptop bag with this outfit will let you breeze through from a day job to a summer soirée.
6. Polka Dot Jacket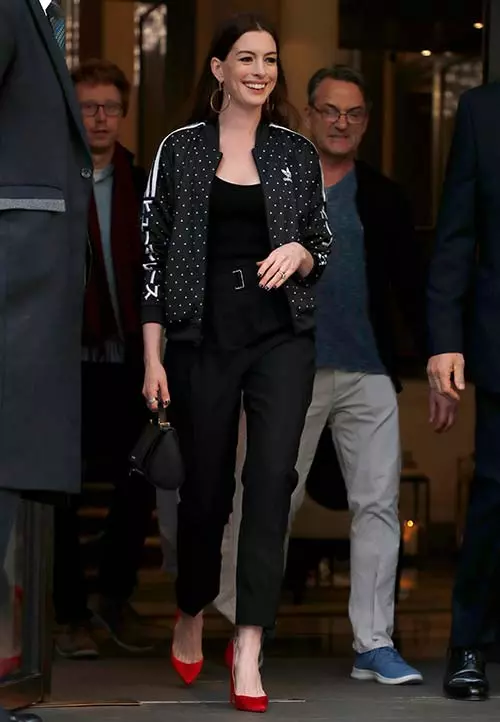 Here's another signature piece with this timeless print that you can add to your closet. Go for monochrome or a full black outfit and finish it off with a polka dots jacket. It is neither too loud nor too twee. It is just perfect. Feel free to add a pop of color with red pumps.
7. Polka Tube Top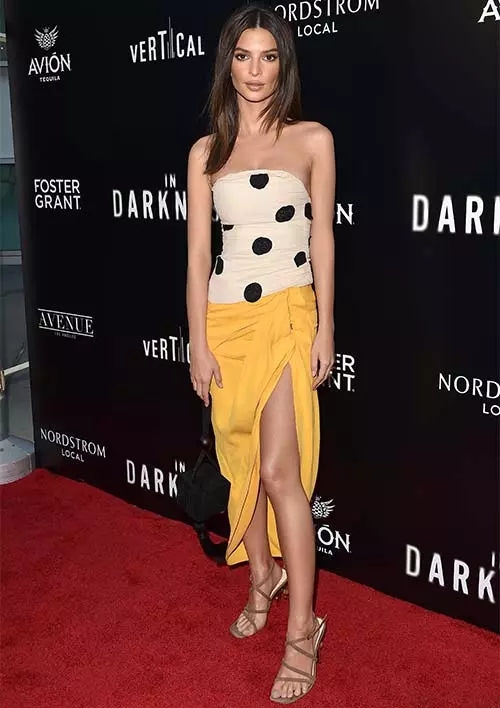 We found you an ideal companion this fall, but not something that is straight out of a magazine. A polka tube top. Unassuming, right? A tube top, a long skirt, tan boots, and a trench coat. Damn, why did we not think of this earlier?
8. Polka Shirt And Suit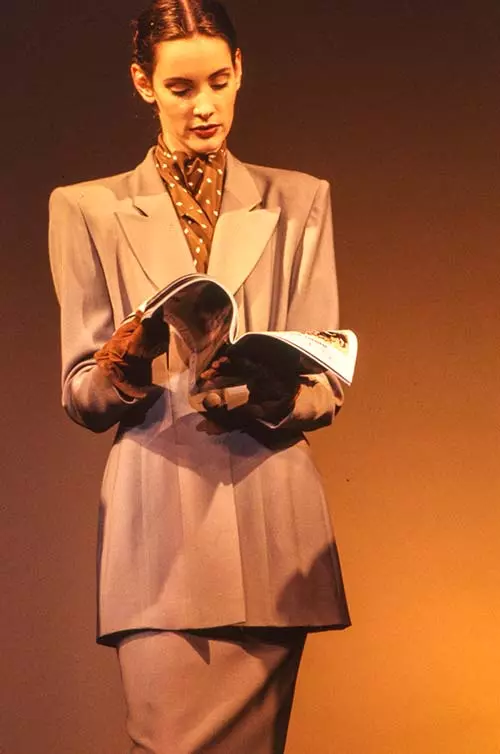 How about an oversized suit? You know that it is riding up the trend hill, right? Gone are the days of crisp white shirts, well-fitted trousers, and perfectly tailored blazers. Spin them to baggy pants or a long skirt, an oversized blazer, and a yellow polka dots shirt.
9. Red Polka Dot Pencil Skirt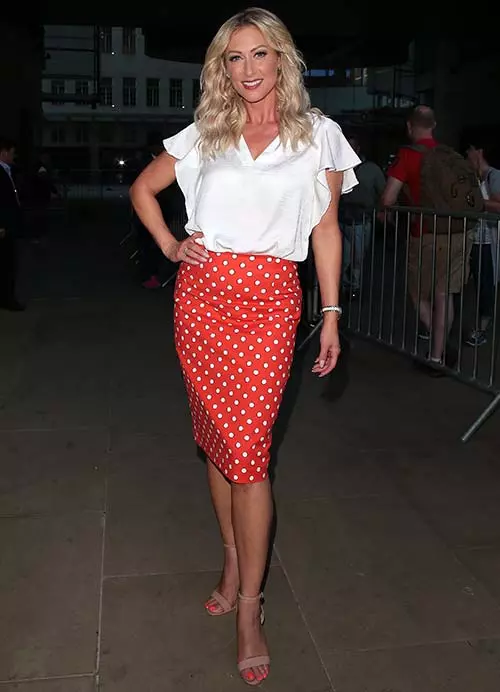 Get into the party mode and go from desk to date on a Friday night. A red polka pencil skirt, white blouse, and black pumps is the way to go here. Don't forget to dab on some red lipstick before you enter the venue.
10. Pink Polka Dot Ruffle Dress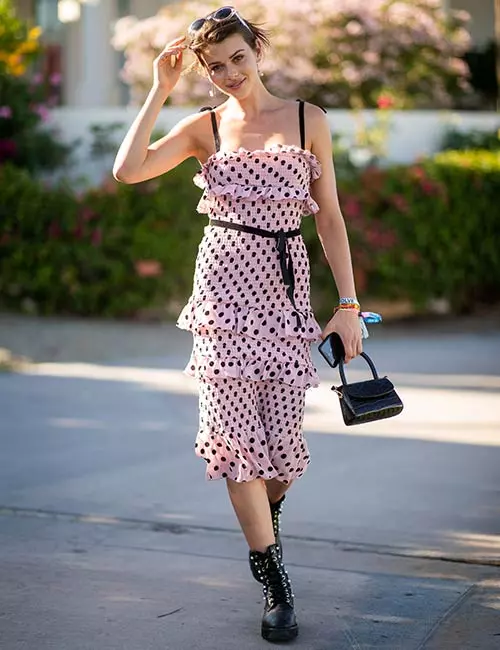 Spring or summer, beach or the local market, a party inside or a luncheon outside – get hold of one of these dresses because, as you can see, they come in handy no matter where you are headed.
11. Brown Polka Dress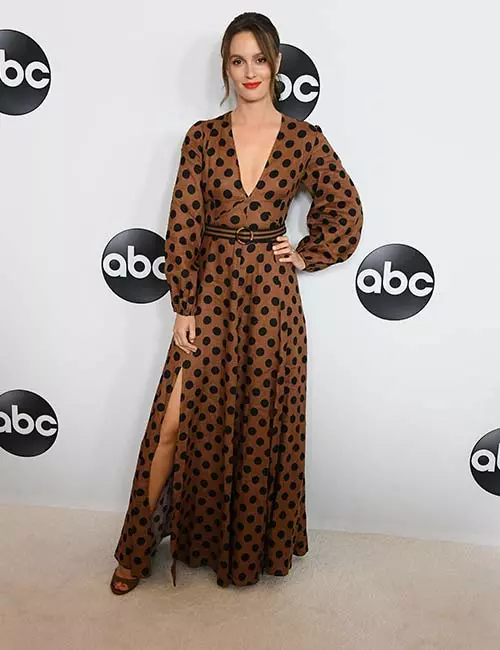 After the signature black and white polka dots print, brown is the most coveted. It is understated and almost like a style underdog. Gowns, sweaters, wrap-around tops, and pencil skirts are all minimalistic, subtle, and classy ways of incorporating the brown polka print.
Do's And Don'ts For Wearing Polka Dots
Dos
Balance the size of the polka dots.
Remember where you're headed to and choose one garment that stands out.
Experiment and play with prints, plaids, or stripes along with polka dots.
Wear black footwear when in doubt.
Go for simple accessories that bring out the best of your outfit.
Subscribe
Don'ts
Wear too many polka dot garments in one outfit.
Go for matching separates with polka dots.
Be too loud or out there with colors when opting for polka dots.
Choose huge or chunky accessories over dainty ones.
It is an undeniable fact that most women love polka dots. However, what is also a fact is that not everyone can carry a polka dot outfit with elegance and panache. The trick to successfully wearing a polka dress is seamlessly blending a retro vibe with modern aesthetics. The polka dot outfit ideas shared in this article can serve as inspiration for styling flowy one-pieces, ruffled tops, formal gowns, and skirts. You can easily pull off a polka dot outfit if you keep balance in mind. However, avoid chunky jewelry and too many prints or patterns when assembling a polka dot outfit.
Frequently Asked Questions
Are polka dots in style?
Everything retro from the '80s and '90s are finding their way back into the mainstream clothing lines. Polka dots continue to be the front-runner but in a way that makes them relevant to current trends. Adding polka dots in subtle ways creates an evergreen look.
What to wear with black and white polka dot dresses?
Kitten heels go with polka dots pretty well. Pumps, ankle-strap sandals, and wedges look great too. Boots look nice depending on how you style them with the rest of the outfit. Flats or ballerinas in the summer are a great idea. Always play low-key with the color of the shoes if you don't want to look too flashy.
Key Takeaways
The key to wearing polka dots the right way is to style the outfit with balance so that it can look retro yet modern.
Polka dots create a statement of their own, so it is best to not mix polka dots with other loud colors.
Use simple and small accessories instead of chunky ones to create a harmonious look with polka dot outfits.
Related
The following two tabs change content below.
Pratima Ati
After working in Marketing and Business Development for a few years, Pratima Ati jumped ship to pursue two things she… more
LATEST ARTICLES
Traditional Indian Dresses That Every Girl Can Wear
Traditional Indian Dresses That Every Girl Can Wear
20 Latest Salwar Kameez Suit Design Patterns For Women: 2022
20 Latest Salwar Kameez Suit Design Patterns For Women: 2022
What Colors Go With Brown? Tips And Outfit Ideas
What Colors Go With Brown? Tips And Outfit Ideas
8 Different Types Of Socks – Guidelines On How To Wear Them
8 Different Types Of Socks – Guidelines On How To Wear Them
How To Measure Shoe Size – A Perfect Guide With Sizing Chart
How To Measure Shoe Size – A Perfect Guide With Sizing Chart
20 Best Ways To Wear Joggers To Look Stylish
20 Best Ways To Wear Joggers To Look Stylish
9 Best Places To Donate Clothes And Do A Good Deed
9 Best Places To Donate Clothes And Do A Good Deed
How To Wear A Saree In Different Ways To Look Slim And Tall
How To Wear A Saree In Different Ways To Look Slim And Tall
20 Gorgeous Party Wear Saree Designs With Blouses For Women
20 Gorgeous Party Wear Saree Designs With Blouses For Women