As a part of the decoration, Rangolis are made by many households in India on the floors. The area where they are made is considered the welcoming area to the Gods. Among the many types, Rangoli designs with flowers are pretty popular.
So, if you are looking for some inspiration for the same, you have successfully landed on the right page. In this article, we have provided you with a list of some gorgeous flower Rangolis that you would love to try right away.
Common flowers like roses, marigolds, and daisies are used to make these Rangolis. Also, you can use leaves to add more beauty to your Rangolis. Do not worry if they seem difficult to you. If you are a beginner, you will need some practice. And if you are a pro, you can ace these designs without taking much time. Now it is time to scroll down and choose the design you love the most. So, go ahead and get started.
Rangoli Designs With Flowers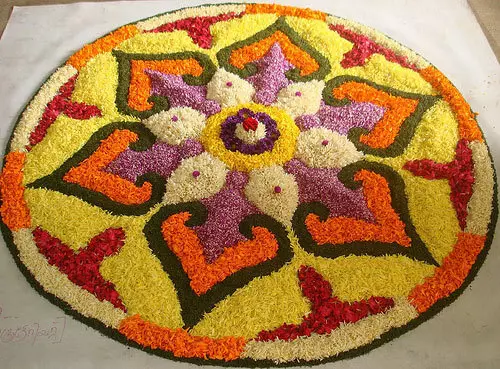 1. This one is a spectacular flower rangoli using flowers of various colours. The Rangoli here has roses, daisies, different coloured marigolds and much more. This one is a very difficult design and the theme is Floral and Romantic. The flower shape has been given a twist with the emphasis on the heart shaped patterns. All in all, this is a fantastic design for any occasion and can be done on even anniversaries or weddings too.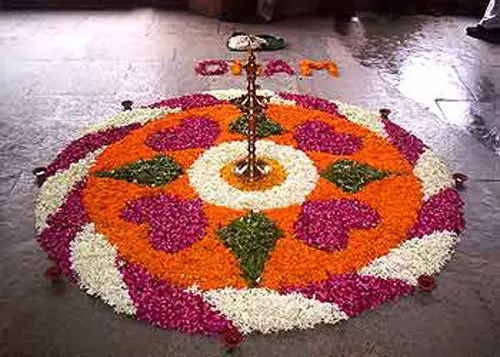 2. This one also includes loads of colours which makes it a very colourful Rangoli. The center of attraction is the Diya. The orange colour of the Marigold becomes the primary colour in this rangoli and the white and purple spiral shapse on the border adds to its uniqueness.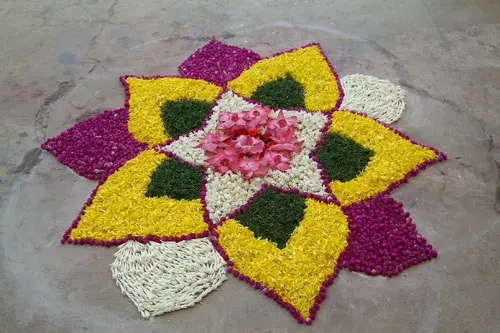 3. This one is a rightful justification for the term – Flower Rangoli because it's a Rangoli in the shape of a real flower and is made up of flower petals as well. We love how the five petals of the flower in the rangoli are done using multiple coloured flower petals. We also love the added rose petals in the center of the design.
[ Read: Kundan Rangoli Collections ]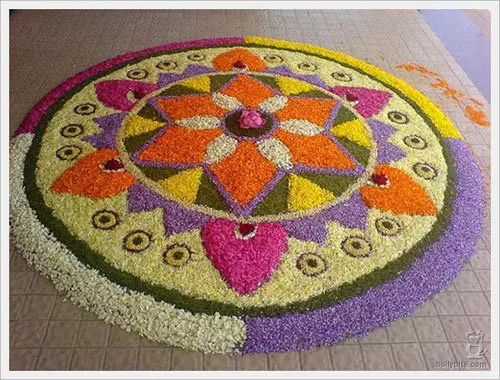 4. This one is another very colourful design that includes loads of colours and is really a great way to celebrate any festive day. As it is very colourful, it can be used on any occasion like Diwali, other religious functions or on any other day too. But we think this makes a very pretty Holi Rangoli, especially due to its colour play. Do you agree?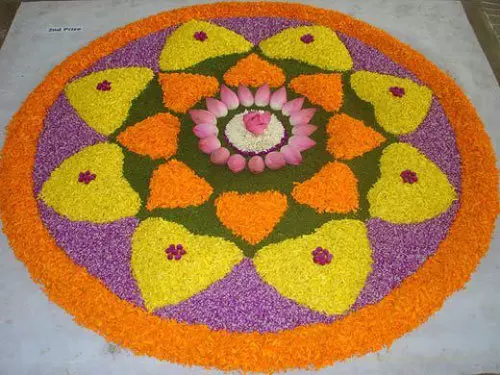 5. Here is another bright and colourful rangoli made with Flower petals. The special touch in this rangoli is the lotus buds used in the center to decorate the Rangoli. The use of colours is also great and makes this design a great way to make your home colourful in style. We also love those flower replicas created in the middle of each yellow flower petal using Rose petals.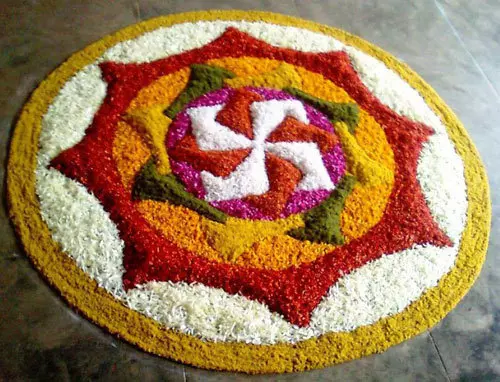 6. Swastika is the sign of all things good and holy for the Hindus and here we see a very pretty swastika being created with beautiful flower petals. This complex design using petals of various colours is an apt representation of the Swastika which is said to be very holy. So you can do it on any occasion like a wedding, or Diwali or Holi too.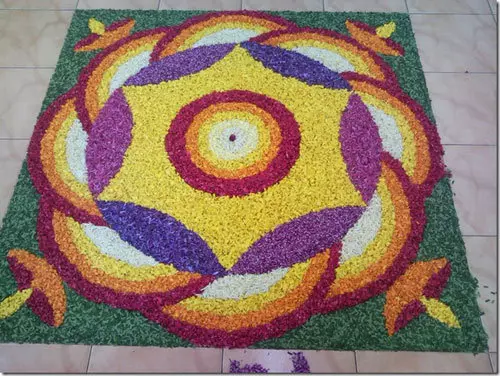 7. Now this one, we feel is quite unique from the ones we are used to seeing. This one is created keeping in mind the occasion of Diwali so the diyas on either corner make it even better. We also love the large array of colourful petals used for the rangoli.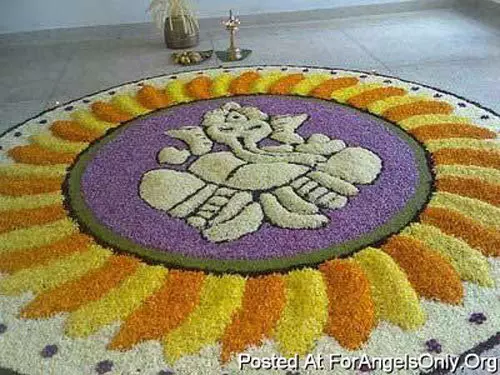 8. Lord Ganesha is one of the most worshipped gods in India and he is said to give everyone 'Siddhi', the power and knowledge to attain one's dreams. He is a secondary deity in almost all festivals and we see Lord Ganesha adorn many rangolis too. Likewise here we see him in this beautiful flower Rangoli which can be done on any religious occasion.
9. Another flower inspired 'Flower Rangoli' design for you. We love how neatly it has been done and also the colours used for this purpose is very beautiful. The placing of diyas on the border of the rangoli makes it even more beautiful. We also like the different styled flower shapes are used in this design giving it an unique touch.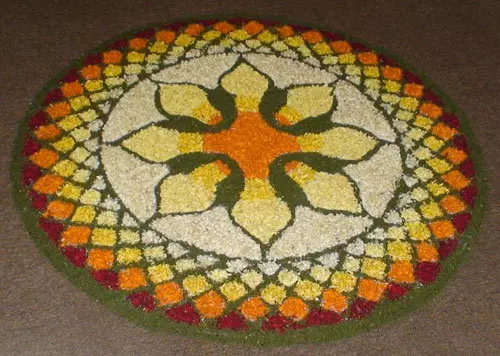 10. This flower rangoli presents to us the supreme excellence of its creator. The small details in this rangoli make it even more special. We love how the circular patch of grass has been used as the base to create this beautiful design. We also love the weave effect done on the outer part of the Rangoli.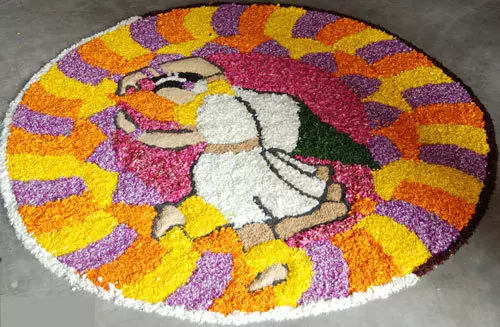 11. Indian dances especially the traditional dance styles and dancers have been a source of inspiration for many artists for centuries. And this inspiration still continues to give our artists the material for their creation. Likewise we see this beautiful replica of an Indian dancer being created by flower petals. Rose, daisies, marigold and more flowers make this great rangoli design. It is truly a very different attempt to portray the tradition of India. A great rangoli for Holi or Diwali. Certainly one of the most appealing free hand rangoli designs with flowers.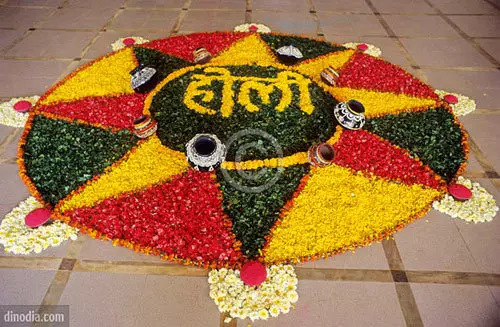 12. Now this one is yet another beautiful Flower Rangoli design showing the spirit of Joli. We love how colourful the Rangoli has been made to suit the mood of the festival of colours. The small vessels used in the design as well as those small plates filled with colours on the outer design all signify the importance of colours and the rituals of holi. We love the use of striking colours for this design.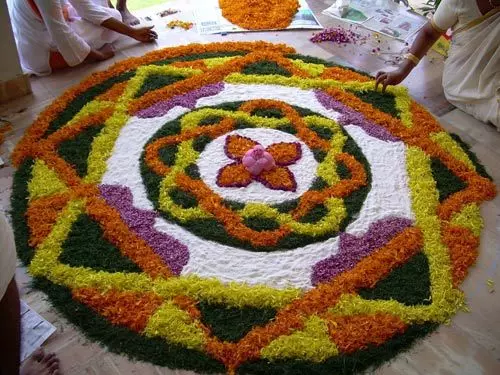 13. This design is quite simple to do yet it looks beautiful on any occasion. The white used here is not a flower though one can use white flower petals instead of colours. The colours used here are simple and green grass is used as the base and yellow and saffron marigold petals are used to create the design. Purple coloured flower petals are used in some places. The highlight of the design is surely the lotus flower used in the centre.
Subscribe
[ Read: Pookalam Designs ]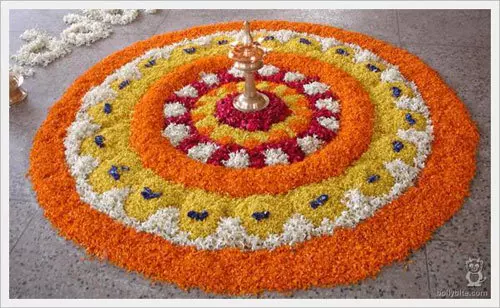 14. A very beautiful and colourful Rangoli is presented here. The bright saffron coloured flower petals and yellow flower petals make this design very colourful. The white flower petals and red rose petals add to its beauty. The Rangoli created around the Diya stand justifies its cause and attracts everyone's attention.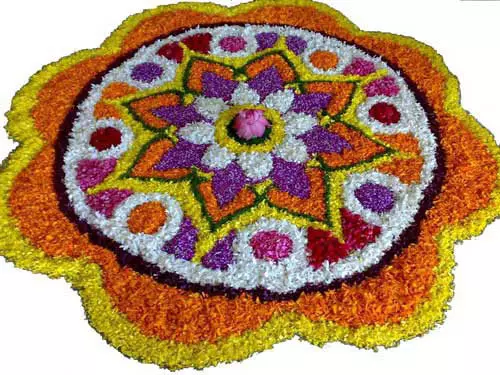 15. This beautiful and colourful Rangoli will surely catch the attention of all your guests. This vibrant design shows a flower shaped Flower Rangoli. The colours used here are saffron, yellow, purple and white. The centre is adorned by a beautiful lotus flower.
16. We simply love this design as it talks of the extraordinary skills of the creator. We love how different shades and similar groups of shades have been used to give a shading effect to the Rangoli. We also love the innovative pattern in the middle. There is a whole range of colours present in this Rangoli making it a very colourful Rangoli. The design is done with perfection making it a great design for you to try at home.
17. Diwali is a very special festival all over India and we simply love this cute and simple attempt at Flower Rangoli. In this Rangoli, unlike the usual techniques, whole flowers are used to do the design. Yellow daisies are used to make the borders and only rose petals have been used instead of the whole rose flower. It is quite unique and we feel this is suitable for those who are too lazy to spend too much time on the rangoli. A short and easy design — isn't it? This is the most perfect of all flower rangoli designs for diwali.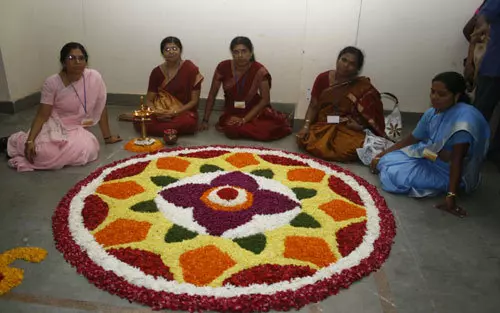 18. We love this simple and traditional styled Rangoli created with flower petals. The circular shape with the flower patterns inside using different coloured petals is quite traditional yet not plain at all. The design seems quite fresh and seems to have been done with good colour selection. A great choice for anyone.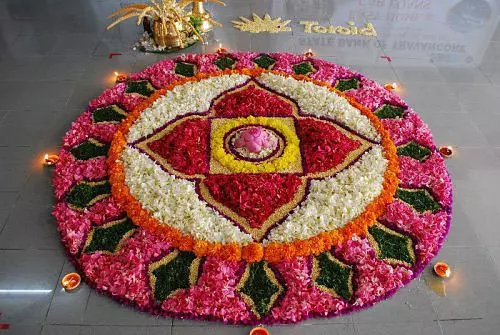 19. We simply love the look of this Rangoli. While the bright pink border attracts us, we cannot miss the lotus flower in the middle. This one is an oval shaped Rangoli with bright contrasting colours like white & yellow and pink & saffron being used. The end result is a unique and fresh looking rangoli to make all the heads turn at that home event. We also love the added diyas.
[ Read: Rangoli Designs With Dots ]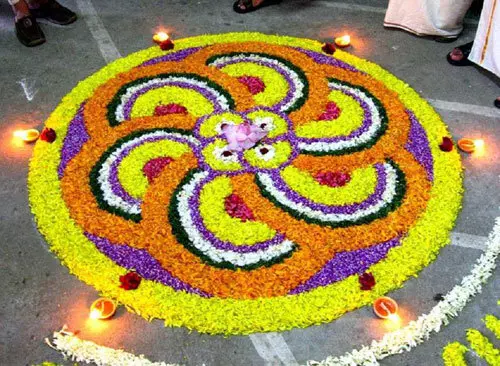 20. What do you get when you add flowers and diyas and Ground Chakras? Well we think you will get something like this Rangoli which resembles the effects of a Ground Chakra. So what's a ground Chakra? It is a firework which when lighted, turns in circular motions making whirlwind patterns on the ground. It is used especially during Diwali. So now you understand why we  love this Diwali inspired Rangoli. Truly a great way to celebrate the spirit of Diwali.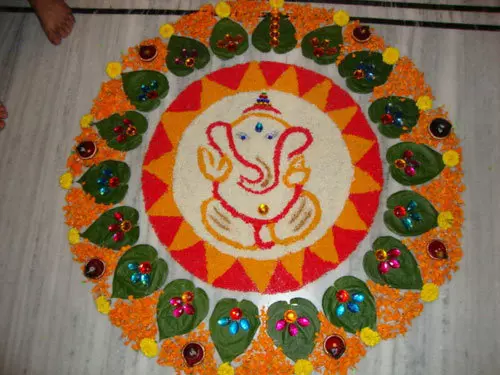 21. Another very pretty picture of Lord Ganesha done with flowers. In this design we see the use of many types of Rangoli making techniques. The leaves used here are not real and the design of Lord Ganesha is done over a white background created with rice. There is use of colours, beads and stones too. All in all, it's a nice blend of traditional and modern techniques.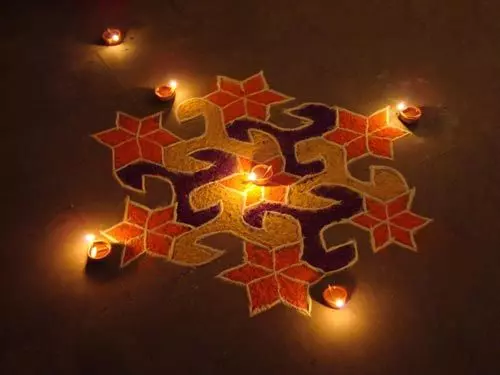 22. We love this simple and easy to do colourful Rangoli with flowers. The colours used here are truly very bright and are just perfect for the whole design . The floral pattern in the middle is worth mentioning too. We feel it's a great Rangoli for those with limited expertise in Rangoli making.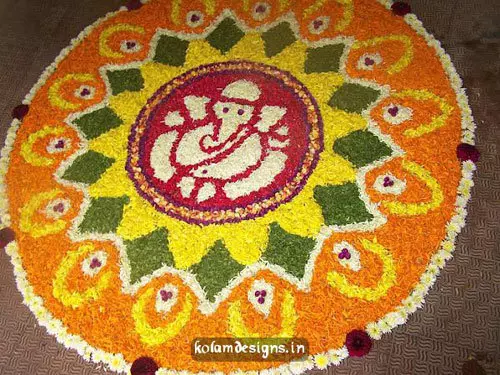 23. This one too is inspired by Lord Ganesha and he adorns the center position in this rangoli. We see the use of different colours in this Rangoli and there are a number of small details in this Rangoli. We love the striking colours used to make this Rangoli stand out.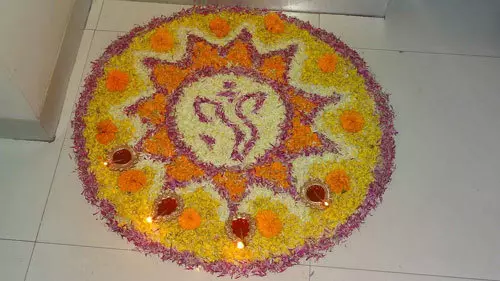 24. We like this one as it is a very simple and easy to achieve design. We love how diyas add to its beauty. There is a touch from Lord Ganesha in this design too – you can see his symbols are present in the center of the design. We feel this one is easy for anyone and can be at any place of the house. You can change the colours according to your needs.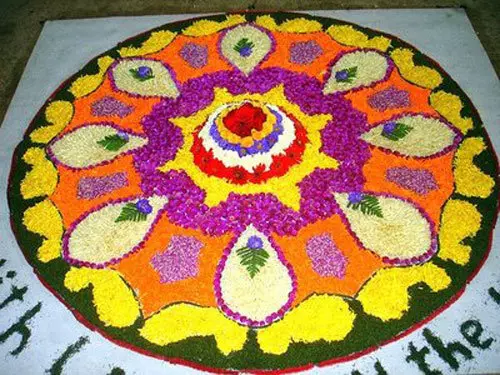 25. Last but not least, here is a vibrant Floral Rangoli for you all. The colours used are very striking and the design too calls for special attention. We love how the design has been given a twist with floors of flower petals used to raise the height in the middle and the icing on the cake is surely the rose in the middle. The fern like leaves used for decoration, the bright coloured petals and the unique design all make this a very apt design for you to try and get loads of compliments your way
Rangolis are an indispensable part of Indian culture. These decorations are often drawn outside homes during special festivals to symbolize positivity and liveliness. Rangoli is often made with flower petals as these bright, colorful elements elevate the look of the motif. These rangoli designs with flowers can help you choose your next pattern. Make these designs your own by adding your own twist. Incorporate many different colored petals to enhance the overall appearance. You can also add in leaves to get that vibrant green color. Whether you want to showcase your creativity or add in spiritual elements, there's something for everyone here.
Images: Google
Related
The following two tabs change content below.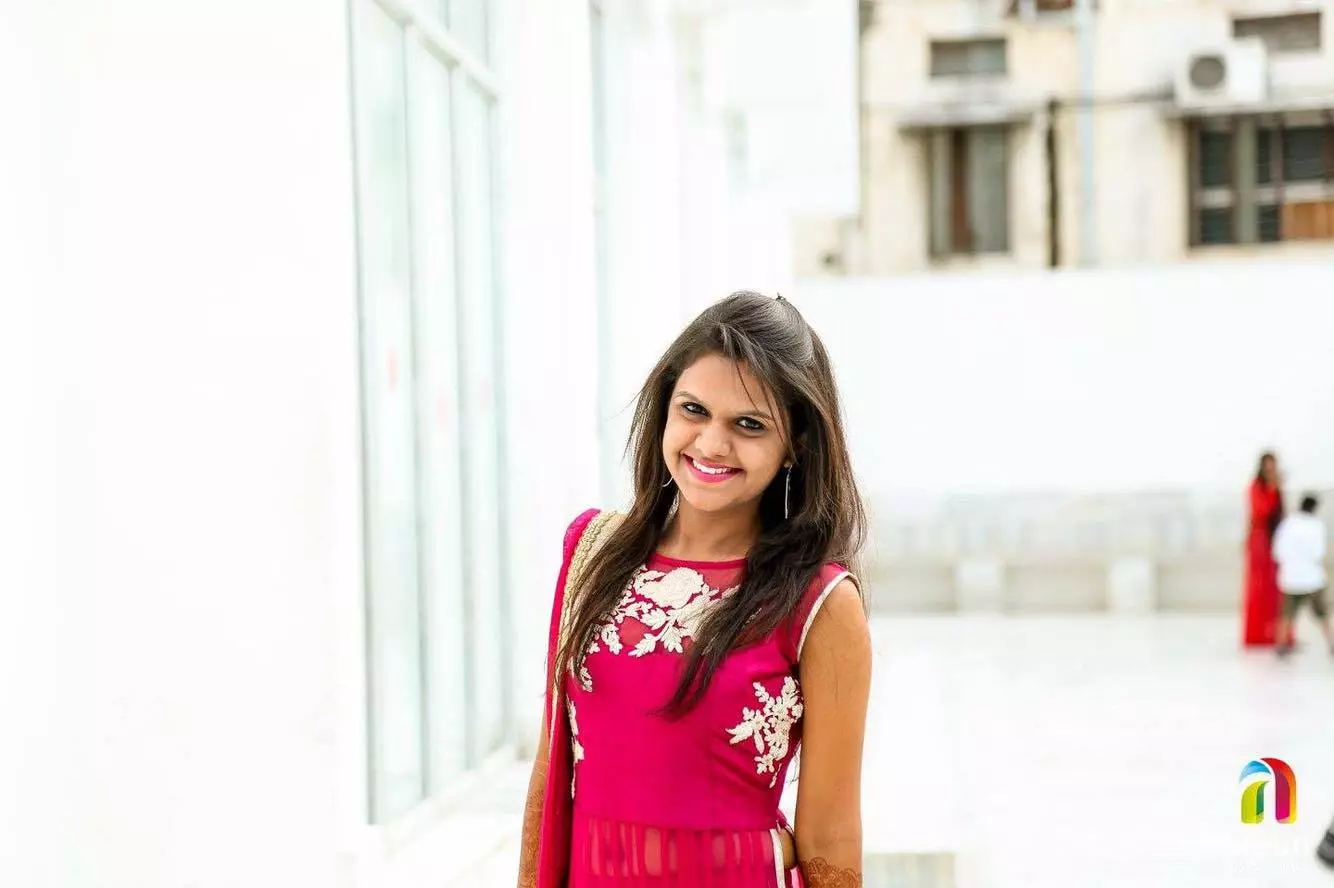 Nisha Baghadia
Nisha is a contributor to StyleCraze. She is a makeup aficionado and combines her love for makeup and writing to… more
LATEST ARTICLES
16 Best Pongal Kolam Designs That You Should Try In 2022
16 Best Pongal Kolam Designs That You Should Try In 2022
10 Best Sanskar Bharti Rangoli Designs To Try In 2022
10 Best Sanskar Bharti Rangoli Designs To Try In 2022
50 Best Pookalam Designs For Onam 2022
50 Best Pookalam Designs For Onam 2022
10 Best Pongal Rangoli Designs To Try In 2022
10 Best Pongal Rangoli Designs To Try In 2022
How To Draw Rangoli – 2 Simple Methods With Illustrations
How To Draw Rangoli – 2 Simple Methods With Illustrations
Top 10 Latest Kolam Designs For You To Try This 2022
Top 10 Latest Kolam Designs For You To Try This 2022
Top 10 North Indian Rangoli Designs To Try In 2022
Top 10 North Indian Rangoli Designs To Try In 2022
10 Great South Indian Rangoli Designs To Try Out This New Year 2022
10 Great South Indian Rangoli Designs To Try Out This New Year 2022
10 Easy Freehand Rangoli Designs That Everyone Should Try
10 Easy Freehand Rangoli Designs That Everyone Should Try