A sports bra is the most crucial part of a woman's fitness regimen. A lot of us, in general, tend to focus on our outerwear for obvious reasons, but ignore our breasts. But wearing a bra that is not only comfortable but can also support the girls during the workout is as important. So even if you have been wearing a random sports bra, understand that there are many variants, and invest in something that is meant for you. An investment like this comes a long way and is much needed as well. Today, let's clear this and discuss your options and how you can go about choosing the right bra. Keep reading.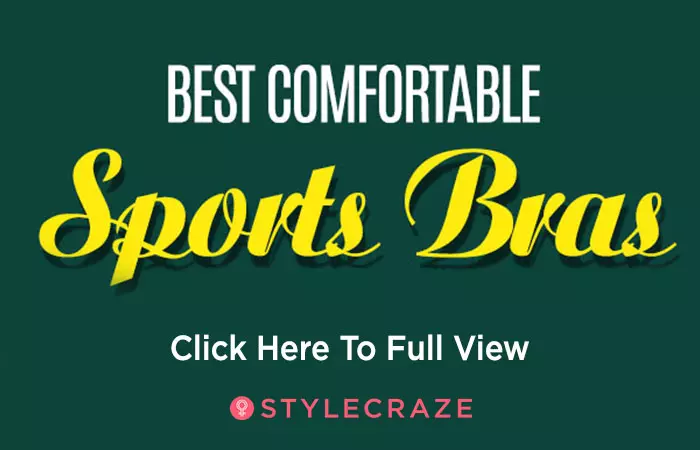 In This Article
How To Choose A Sports Bra?
The first rule of thumb is to know your size. Usually, you need to go one size up.
If you are an outlier and have breasts that are either too small or big, you should be more alert.
Do your research to understand what the market has to offer.
Encapsulation is the key. Choose bras that come with separate molds.
Prefer thick straps over racerback or anything else, because your body and breasts need that kind of support.
Go with adjustable straps because it helps when your size fluctuates. But either way, try it out first, and you will know what works.
Choose a low, medium or high impact bra depending on the kind of activity/ies you will be part of.
Having a few go-to brands might be a great way to go about sports bra shopping.
Mostly be open and on the lookout.
Full Supportive Sports Bras And Top Brands
1. Under Armour Knit High Running Sports Bra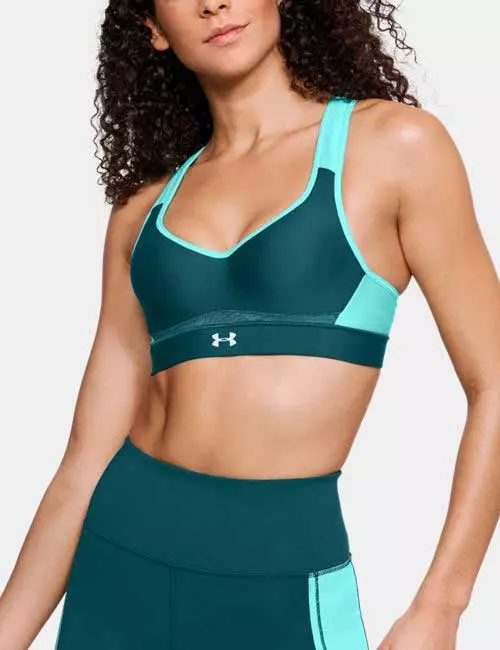 A bra should be like your second skin – it shouldn't pinch, poke or chafe your skin – that's when you know you have found your match. The bra should be fully encompassing without choking you, and of course, support those babies. Don't think it's too much to ask. Brands make them. We just need to know the names and give them a shot.
2. High Impact Sports Bra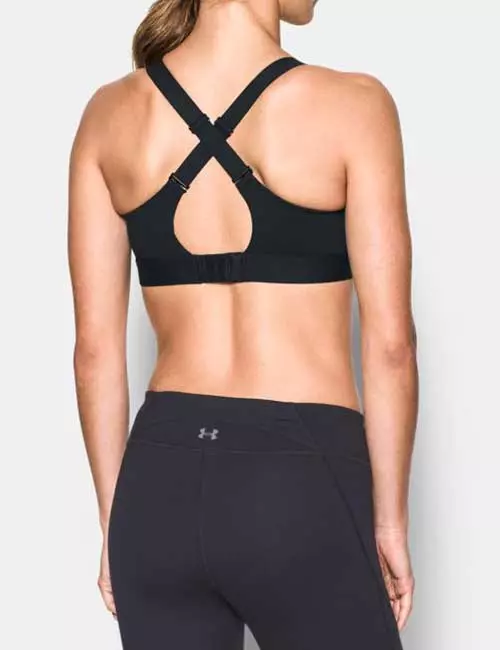 High impact physical training and other activities like running, field sports, etc. need bras that can handle the pressure. You need bras that are slightly more sturdy than your regular sports bra. Brands like Under Armor are masters of their game and have tons of options, and one of them is this high impact sports bra.
3. Wire Free Maximum Control Sports Bra For Big Breasts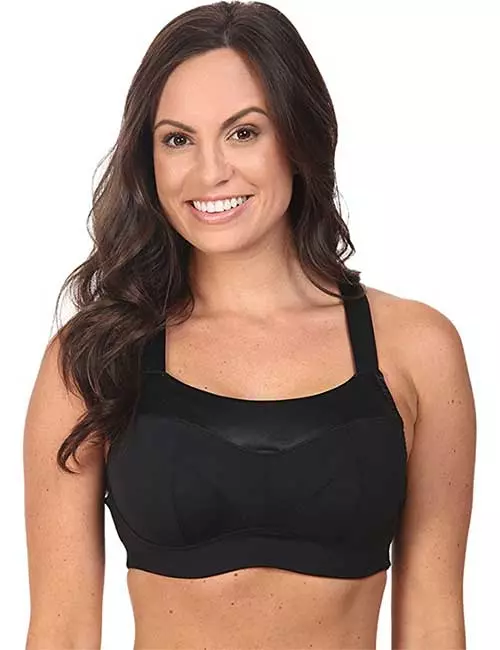 If you are looking for a sports bra and have bigger breasts, we understand that it's twice as hard for you to find something that fits you and is comfortable as well. Look for wire-free options in breathable and stretchable materials. Some brands sell bras that are made to perfection, without compromising on the style. Just because you have bigger breasts does not mean you have to give up on looks!
4. Jockey Performance Pushup Seamless Sports Bra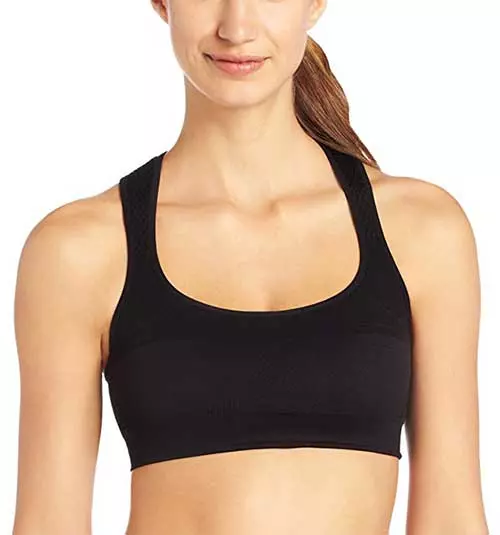 When you start to lose inches and weight, you will notice that your breast size will begin to drop too. As much as we hate it, for some of us, especially those with smaller breasts, it's more obvious. Which is why you need bras that give you a little push-up. Jockey, a leader in making women's lingerie has some very good sports bras that give you extra padding, support, and comfort. You can even wear these under your T-shirts and tops.
5. Nike Motion Adapt Cardio Sports Bra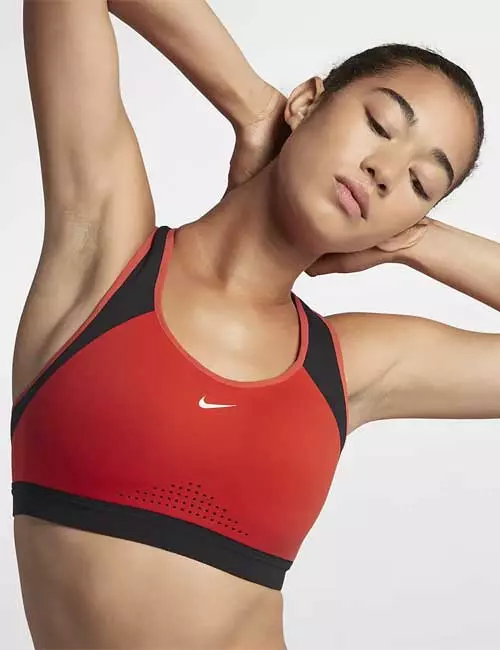 If you are headed to a workout you dread, worrying about your sports bra or underwear should be the last thing on your mind – and that means you need to take care of this business first. The bra gives you the under-breast comfort to keep it together during high impact movements. There is a soft mesh placed strategically that absorbs sweat. If you are into more than one kind of fitness activity, this bra might be a perfect fit for you.
6. Front Closure Sports Bra From Victoria's Secret
The clip and zip technology from Victoria's Secret is patented technology that keeps everything under control. The padding is breathable, the straps are adjustable, and the bra is extremely comfortable. This bra is everything a sports bra should be, and if you are a loyal customer of VS, you're lucky.
7. Adidas Molded Techfit Bra For Sagging Breasts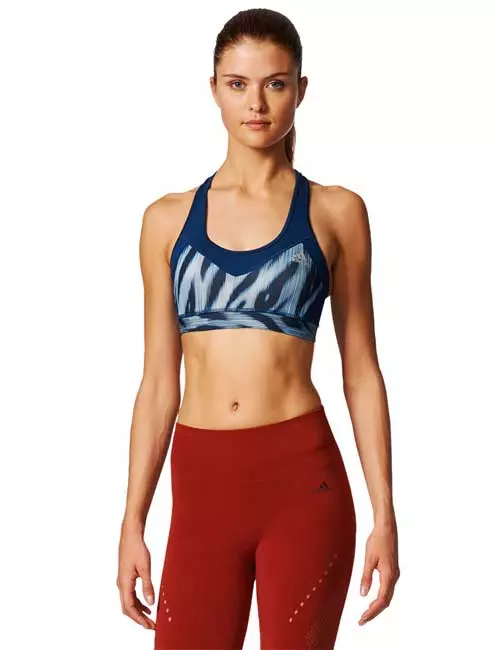 Ladies with sagging breasts, listen up. If you have decided to buy good sports bras, I'm sure you are doing that for a reason. So, let this be one place you wouldn't compromise or prioritize money over fit. You need bras that fit you exceptionally well, and fit both your breasts entirely inside the cups. So, go with molded and separated sports bras. It needs to be sturdy from the outside but soft on the skin. Brands like Adidas, Nike, Under Armour, and other big athleisure companies already have enough variants from sizes ranging from AA to DD, so take some time and check them out.
8. New Balance Sports Bra For Gym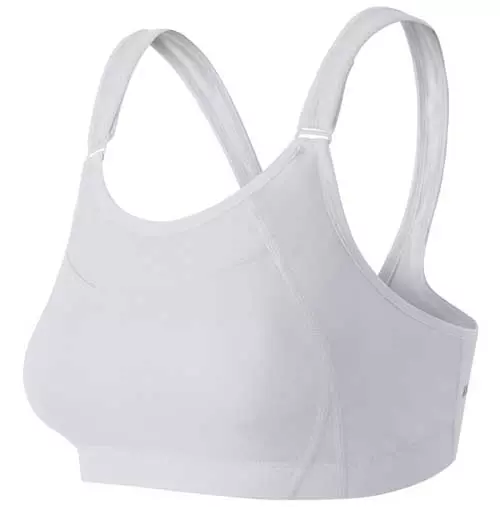 The gym is invariably about cardio, strength, and sometimes high impact exercises too. You need bras that have separate molds and are supported by two different cups, which can otherwise make your workouts very uncomfortable. Always choose bras with thicker but softer bra straps as opposed to the slender ones, because all the extra support comes from the straps and they need to be sturdy enough to hold the fort.
9. Athleta Empower Bra For Running/Jogging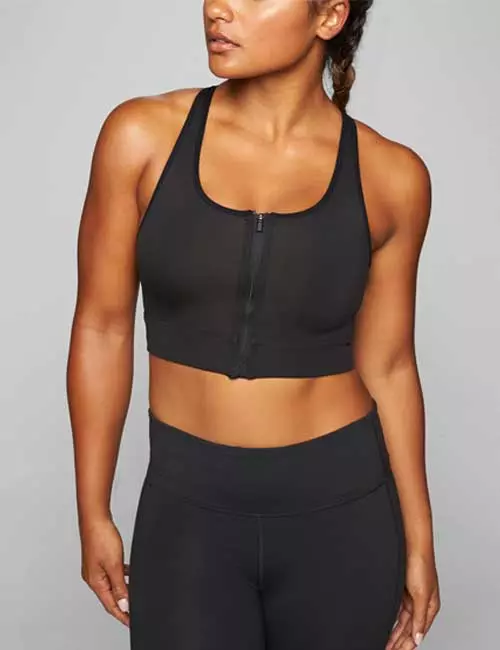 While sports bras don't come with a closure, there is an increasing demand for bras with a front closure. The Athleta Empower Bra for running and jogging is designed with a soft mesh and front closure, keeping in mind the needs of women who run. It does not chafe or rupture your breasts when you run, and that's a critical aspect of a sports bra for running.
10. Cross Straps Bra For Kickboxing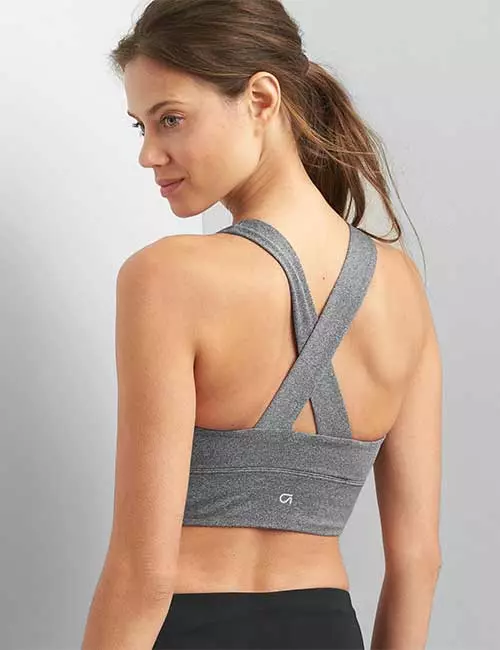 Activities like kickboxing need bras that stay in place without creating spillage, but are also soft on the skin. Bras that come with thicker straps, preferably crossed and stretchable, give you extra support. You can go for high or medium impact sports bras.
11. HIgh Impact Sports Bra For Plus Size Women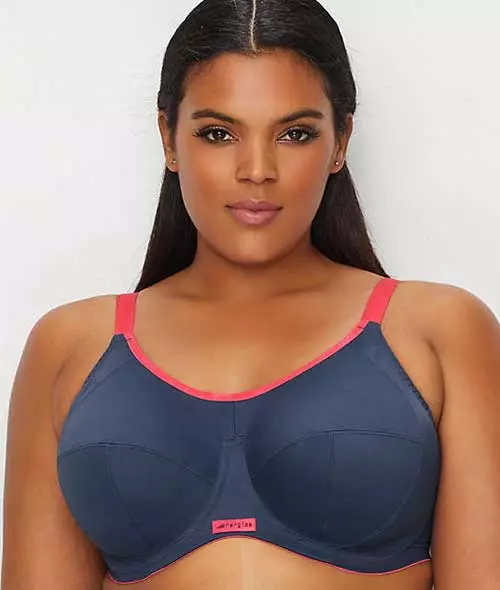 Plus size women find it a little harder to find a sports bra that fits them well, supports them, and is comfortable too. But, that's changing rapidly, and they are brands that cater specifically to women who are plus size or with bigger breasts, or both. This High Impact Sports Bra from Bare Necessities makes bras that separate the breasts while keeping them intact.
Subscribe
12. Lululemon Yoga Sports Bra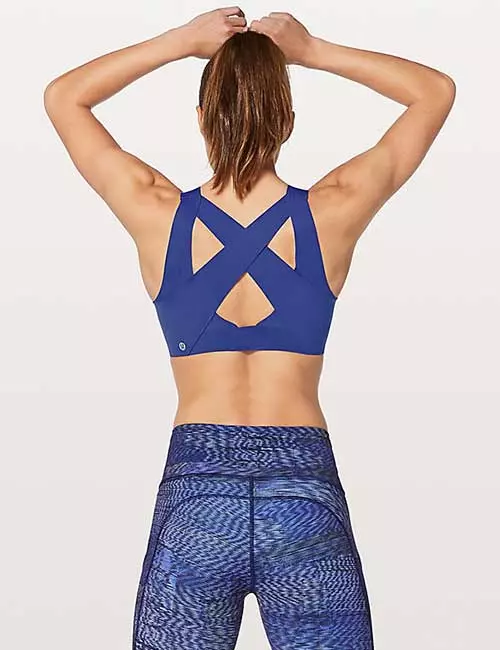 Yoga bras need to be fully encompassing, and since yoga involves a lot of movement, it is important to wear the right bra. Choosing any racerback will do no good; you need something that is breathable, that takes the natural shape of your breasts, and keeps the girls intact. If yoga is your forte and is something that you practice on a daily basis, look at brands that specialize in making sports bras for yoga.
A good sports bra not only gives you the right fit and support but should also be made up of soft, moisture-wicking, breathable material for the ease and comfort of wear. Whether it's running, cycling, yoga, or hitting the gym for an intense workout, a sports bra is always recommended. Pick one from the many styles and fits mentioned above, to suit the kind of physical activity and exercise you indulge in most often.
Related
The following two tabs change content below.
Pratima Ati
After working in Marketing and Business Development for a few years, Pratima Ati jumped ship to pursue two things she… more
LATEST ARTICLES
Traditional Indian Dresses That Every Girl Can Wear
Traditional Indian Dresses That Every Girl Can Wear
20 Latest Salwar Kameez Suit Design Patterns For Women: 2022
20 Latest Salwar Kameez Suit Design Patterns For Women: 2022
What Colors Go With Brown? Tips And Outfit Ideas
What Colors Go With Brown? Tips And Outfit Ideas
8 Different Types Of Socks – Guidelines On How To Wear Them
8 Different Types Of Socks – Guidelines On How To Wear Them
How To Measure Shoe Size – A Perfect Guide With Sizing Chart
How To Measure Shoe Size – A Perfect Guide With Sizing Chart
20 Best Ways To Wear Joggers To Look Stylish
20 Best Ways To Wear Joggers To Look Stylish
9 Best Places To Donate Clothes And Do A Good Deed
9 Best Places To Donate Clothes And Do A Good Deed
How To Wear A Saree In Different Ways To Look Slim And Tall
How To Wear A Saree In Different Ways To Look Slim And Tall
20 Gorgeous Party Wear Saree Designs With Blouses For Women
20 Gorgeous Party Wear Saree Designs With Blouses For Women